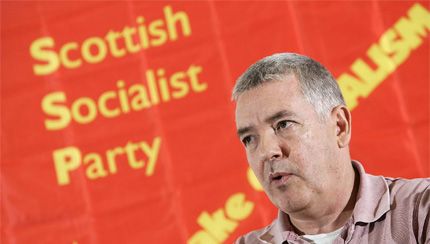 Alan McCombes Revealed as source of Sunday Herald Affidavit.
This morning's session continued with Tommy Sheridan's cross examination of Rosie Kane (see below for her previous testimony) In a departure from last week the Judge granted a motion from Mr Sheridan to ask questions from the advocates rostrum, not from the dock as previously. This was conceded, he said, due to the unusual circumstances of the trial.
Mr Sheridan began with what he described as a "recap" of Ms Kane's previous evidence. She was again asked detailed questions about the SSP's 9th November 2004 meeting (the "9/11 meeting") and was again unable to recall how long Mr Sheridan spoke for or exactly the order in which others spoke. She was also asked again about meeting Duncan Rowan in the Stanley Bar after the meeting and confirmed other people were also present in the room including Joe Harvie and Alan McCombes. The witness was then referred to one of her police statements (she has made 5 in all) and she confirms that Mr Rowan was "hysterical and upset" in the bar.
Ms Kane was then shown a story from the 14th November 2004 headlined "My kinky 4 in a bed orgy with Tommy" and asked if she believed this was accurate. She said she didnt' know and further did not realise that this had any connection with Mr Rowan. She was then shown another story from the next issue of the paper headed "Liar, Liar, Party refuses to believe Sheridan over private life" and again denied any knowledge of it. She also stuck to her previous testimony that Mr Rowan had said in the Stanley Bar "Tommy has taken my girlfiriend away."
Ms Kane was then asked, and denied, the existance of an "anti-Sheridan" faction in the party and described the United Left group, which the defence contends made up this faction" as a safe place for people to meet and discuss issues.
In the most dramatic testimony of the morning Ms Kane was asked about a story that appeared in the Scottish Sunday Herald in May 2006 and if she had any knowledge of who the "senior SSP official" was who had signed a affidavit laying the basis of that story. She said she had not known at the time but had found out "in the last two weeks." On further questioning she revealed the official in question was Alan McCombes. Mr Sheridan then asked that if there was "no plot to do him in" why had Mr McCombes went "scurrying to the newspapers" to which Ms Kane responded that "you would have to ask Alan about that." Mr Sheridan responded "I can assure you we will." She was also asked again about the supposed minute of the SSP meeting of the 9th November and if it was ever ratified. She accepted it may not have been which could make it just a "story on a piece of paper" but added that she still considered it to be a true reflection of the meeting.
Mr Sheridan asked the witness if she had ever stated that "Tommy has got too big for his boots" or that "we are going to get rid of him." Ms Kane stated she didn't recall ever saying that to which Mr Sheridan put it to her that she had said this in the Stanley bar and that he had witnesses to that. Mr Sheridan also had shown a video of him asking a question (on the Iraq war) at Scottish First Ministers questions on Thursday 11th November despite the disputed minute stating he was to be asked to withdraw his question. Ms Kane said she assumed that Francis Curran or Colin Fox were to ask Mr Sheridan to withdraw his question and she did not know if this had been done or not.
The cross examination finished with an animated exchange between Ms Kane and Mr Sheridan, who recalling that Ms Kane had been involved in some acting work and accused her of being a "drama queen" to which Ms Kane replied "Like yourself Tommy."
The Advocate deputy declined to re-examine and Ms Kane stepped down.
The morning continued with the recall of previous witnesses, starting with Colin Fox. We will report on this later today.